Crews are busy in the Cookson Hills Electric service territory working on clearing the rights-of-way (ROW). The clearing of trees, limbs, foliage, and brush is an ongoing effort to decrease the number of power "blinks", and outages as well as reduce the risk of someone coming in contact with the power lines.
Work is currently focused on clearing distribution lines fed by Substation 15 - AKI (Akins Substation). Members can determine which substation serves your location by looking at your most recent monthly electric bill. Look for the number and three-letter identifier located in the box labeled "Sub". Clearing for this substation is expected to continue through late July of 2022.
Members receiving power from Substation 16 – POR (Porum Substation) can anticipate crews clearing the ROW as soon as late July or August of 2022.
Clearing the right-of-way protects individuals from the hazards of electricity and makes power restoration quicker and safer for Cookson Hills Electric members, the public, and our personnel. Please contact Marty Huff at 918-775-2211with any questions or concerns you may have about this project.
Learn more about our Right of Way program.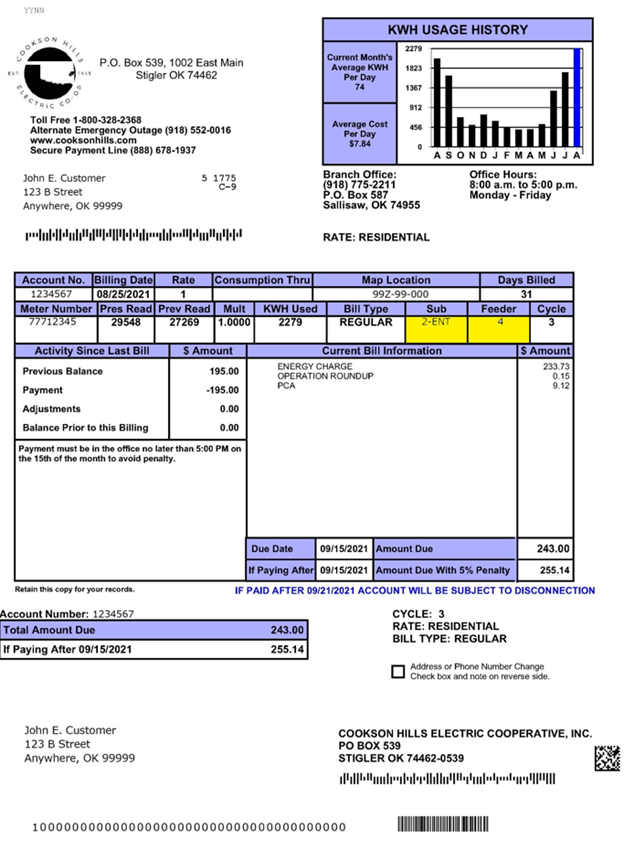 Copyright © 2022 Cookson Hills Electric Cooperative, Inc. All rights reserved.